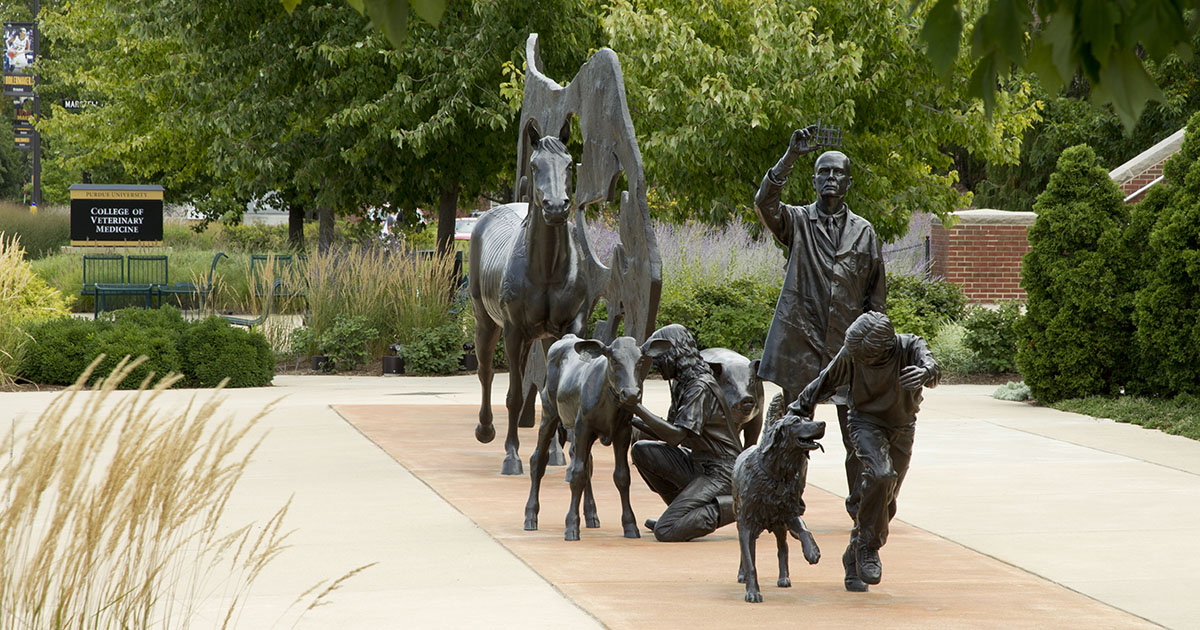 In memory: Dr Charles Sink (PU DVM '68)
Friday, September 24, 2021
The Purdue veterinary family is saddened by the passing of a former sixth graduation from the college, Dr. Charles Sink, of Peoria, Arizona. He was 77 years old.
Raised in Frankfort, Indiana, Dr Sink comes from a long line of farmers. According to a biography posted on the website of the Grand Paws Animal Clinic, a practice he founded in retirement, Dr. Sink was just an Indiana farm boy at heart. While helping out on the family farm at the age of five, he developed his passion for caring for animals and their return to health. Fascinated by medicine, he became a staunch assistant to the local veterinarian, then enrolled at Purdue University College of Veterinary Medicine, where he received his Doctor of Veterinary Medicine degree in 1968.
After graduation, Dr. Sink began working in private practice at a small animal veterinary hospital in the Chicago area. A year later, he bought the hospital with his classmate, the late Dr. James Scott.
The practice quickly grew, leaving the two vets eager to spend more time with their young families. When they spotted an ad for a cabinet for sale in Cheyenne, Wyo., They hastily organized a plane trip, purchased the practice, and moved their families to Western State. There they were able to develop the practice without sacrificing the time they wanted to spend hunting, fishing, camping and skiing with their children.
Dr Sink remained in Wyoming until 1999 when he sold the practice and moved to Arizona to be closer to his children and grandchildren. Being semi-retired and unwilling to open a new practice on his own, he chose to join a national corporation and worked for the animal hospital chain for five years before opting for full retirement.
This retreat, however, ended fairly quickly. Dr Sink found that he missed cats and dogs, surgeries and people. So he and his wife decided to open a new practice, and in 2008 they established the Grand Paws Animal Clinic in Sun City, near Phoenix, with three staff members. Again, Dr Sink was in a rapidly growing practice with an expanding workload and staff. In 2014, Grand Paws moved to a new, larger location near Surprise, Arizona, and continued to thrive.
Dr Sink has spent a total of 53 years in small animal practice. He has also been very active in many organizations and churches. Known as someone who "never met a stranger," he especially enjoyed his time with North Christian Church, the Church of Christ in Cheyenne and serving the Wyoming Veterinary Medical Association, as well as the committee. of Cheyenne Frontier Days Public Relations.
In the Phoenix area, Dr. Sink was an active member of the Christ Church of the Valley – Peoria and frequently traveled with groups there. He had a particular zeal to work with Rapha House, an organization committed to the prevention of sex trafficking and sexual abuse of young women in Cambodia and Thailand.
Dr Sink will be remembered as a dedicated veterinarian who has lived his life well with passion and enthusiasm. He will be sadly missed.
A Celebration of Life will be held on the afternoon of October 1 at Christ Church of the Valley in Peoria, Arizona. In lieu of flowers, contributions can be made in memory of Dr. Sink to the 1968 Purdue University College of Veterinary Medicine scholarship. Endowment, or Rapha House, via Rapha International.
Click here for a full obituary.
Writers):
Kevin Doerr | [email protected]